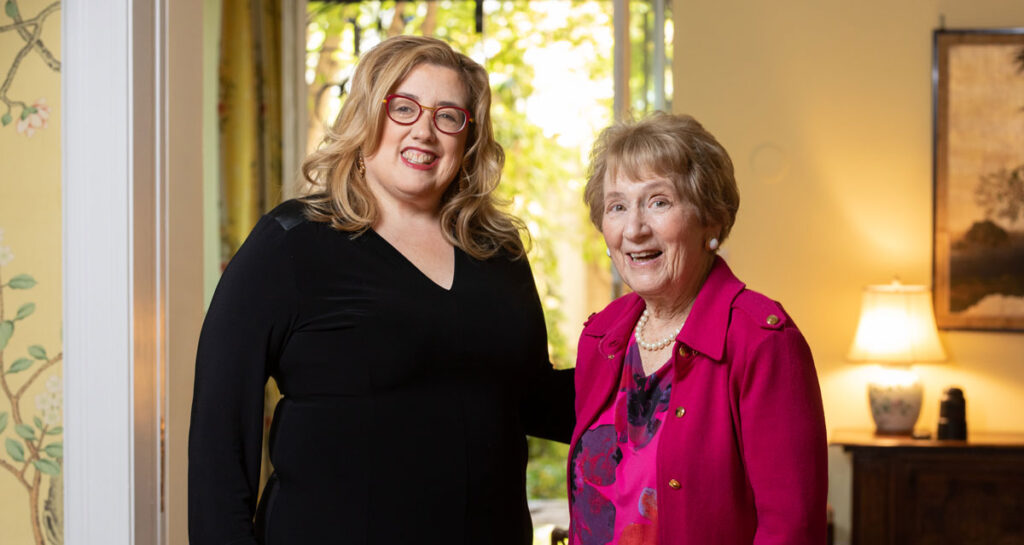 When asked to choose the subject that she would most like to study if she could return to college, Diana Davis Spencer '60 paused for a moment and then began a list: social entrepreneurship, English literature, science, and business, among others.
"Being exposed to different areas of knowledge and having the time to appreciate how disciplines relate to each other is so important," the Wheaton Life Trustee said.
Spencer's deep appreciation for intellectual exploration and the breadth of the liberal arts has been the motivation for her lifetime of support for Wheaton. And in turn, the college will honor her by naming the renovated science center, the Diana Davis Spencer Discovery Center, Dedicated to Free Speech and Innovation.
Spencer and her daughter, Abby Moffat, who was awarded an honorary degree from Wheaton in 2020, had gathered for an update on the renovation project at Spencer's home in Washington, D.C., in lieu of a campus visit. They were enthusiastic about the opening of the new building and the ways in which it will bring students, staff and faculty together. The newly renovated spaces within the 70,000-square-foot building will serve as the home for the business and management and psychology departments, the social entrepreneurship programs, and the Fab Lab makerspace as well as the Filene Center for Academic Advising and Career Services.
Moffat, who serves as the president and chief executive officer of the Diana Davis Spencer Foundation, sat next to her mother and offered an anecdote about her late father, John Spencer, who taught history in private schools, as an illustration of the family's deep appreciation for liberal arts learning.
"My father had a student who told him, 'Mr. Spencer, I've not learned a thing in your class. The only thing I've learned is how to think.' For my father, that was the greatest compliment," Moffat said. "A liberal arts education should help you develop the ability to be a critical thinker, which is crucial to becoming a successful leader in whatever you do."
The building's dedication to free speech and innovation underscores the relationship between entrepreneurship and the liberal arts. "The Discovery Center is designed to encourage students to collaborate with each other and with faculty, to share ideas and perspectives and to be creative," Spencer said. "Liberal arts education was founded on dialogue, encouraging an open mind, and hearing all sides. Socrates asked his students to challenge themselves and each other to see the world differently. That's a tradition worth preserving."
This "out-of-the-box thinking" is exactly the entrepreneurial mindset Spencer and Moffat hope the Discovery Center will instill in Wheaton's students. Both business-minded and creative from young ages, the women credit learning communication skills and problem-solving as crucial aspects of their success.
The powerful impact of good teaching remains a touchstone for Spencer. "When I was a sophomore at Wheaton, Professor Curtis Dahl had a huge influence on me. He created a Henry James essay contest, which I entered and won," said Spencer, who majored in English at Wheaton. "I wrote a critique of The Bostonians, I think. What I do remember is how affirming that experience was."
In fact, it inspired her to continue writing after graduation, launching a career in journalism that saw her interview diplomats, public leaders, and an astronaut; advocate for the environment; and have articles featured in several magazines and newspapers. It also equipped her with skills she finds essential to her work today.
"Education is all about discovery. To me, free speech and free inquiry spark creativity, innovation, and new ideas," Spencer said.
Reflecting on the connections between free speech, intellectual freedom, and the development of innovative ideas, Moffat noted links between the bravery and ingenuity of the nation's founders and their role as innovators and entrepreneurs. "Entrepreneurship and innovation are inherently American attributes, and they are the natural byproducts of a true liberal arts education."
In 2018, the Diana Davis Spencer Foundation provided the initial spark to make the $25 million renovation of the former science center possible. The foundation's $10 million gift to the college that year included a $5 million challenge grant to raise support for the project; the balance established an endowed professorship in social entrepreneurship and provided funds for entrepreneurial education programs.
"It will be exciting to have one building with classrooms, faculty offices, the entrepreneurship programs, the makerspaces and advising all in one space," Spencer said. "Being together creates opportunities for students to share ideas and be exposed to different spheres of knowledge."
Promoting discovery and the value of diverse perspectives—now more important than ever—has long been a central theme in the family's philanthropic support for Wheaton, seen most recently in the sponsorship of the Diana Davis Spencer Debate Series, the creation of a negotiation course, and development of a Wheaton version of the Chicago Principles.
Encouraging Wheaton's commitment to free inquiry and expression, Moffat said, "Diversity of thought, grounded in civil discourse and the tools to think for oneself, is what has made the American liberal arts tradition recognized around the world." It also plays a role in Wheaton's international make-up and global perspective.
Spencer and Moffat understand this all too well. Their family helped the college launch the Center for Global Education, and they have provided support for a wide variety of global education initiatives, including the Davis International Fellows program, the Davis International House, the Shelby Cullom Davis Visiting Professor of Russian Studies and the Russian Studies Colloquium for students at Wheaton, Wellesley and Harvard.
The impact of those investments is visible in numerous ways, including the international make-up of the student body, which represents 40 countries; the large percentage of students who study abroad during their Wheaton career (50 percent), and the more than 100 college-approved study abroad programs available through the global center.
"To me, global studies is about opening up new cultures, new perspectives and new worlds for students. Abby and I have been fortunate enough to travel and experience many different countries and cultures," she said. "These experiences reinforce our appreciation of freedom and its importance in education. Entrepreneurship is an important avenue for discovery. The Discovery Center opens up a world of possibilities. I applaud Wheaton Professor Imran Chowdhury and GCSEN founder and CEO Mike Caslin for encouraging students to embrace entrepreneurial opportunities and passion to make the world a better place."